Yesterday was once again one of those days that makes the rest of the world wish they could live in the Puget Sound area. Clear blue skies, snow-capped peaks ringing the flatlands, waves chopping the Sound, a crisp, chill bite to the air, a high of about 34 degrees. . .ah. What could be better?
We took the ferry over to Seattle yesterday morning, so Olivia and I could meet my dad and go together to the
Model Railroad Show
at the
Pacific Science Center
. The ferry ride would have been enough, with a view up toward Mt. Baker, and Mt. Rainier holding court to the south, the waves blowing liquid spray over the bow of the boat. The model railroad show was certainly a lot of fun - Olivia especially noticed the preponderance of Thomas the Tank Engine models - and the MLK Jr. festivities in the Center House, complete with Gospel Choir, all made for an exciting afternoon.
There's a park on Queen Anne Hill. If you've never been there, I'm certain you know about it anyway. Because 1/2 of all postcard shots of Seattle are taken from this location.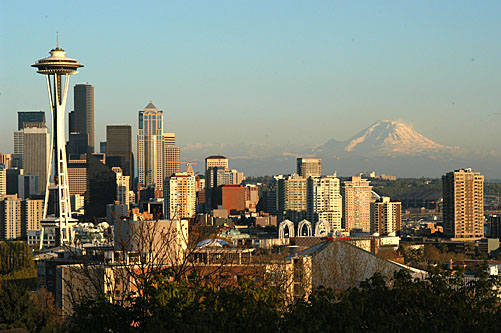 Recognize it? Go ahead, google "Seattle" and click on images. You'll find this picture, and many variations on it. It may be Seattle's most famous viewpoint.
Unbeknownst to a lot of people, though, they recently installed a marvelous children's play area at the park that lies directly below this park. Our kids were a little wired and needing to burn some energy off, so we took them to that play area, letting them slide and climb and swing to their heart's content.
Later we wandered back upup, and noticed that in addition to the news crew, there were many photographers setting up their tripods, staking out prime viewing locations. It was becoming quite a crowd.
It took me a bit to finally understand what was happening. They were all setting up to watch the sunset over Puget Sound, with the light of the setting sun reflecting off of downtown and Mt. Rainier.
So I went back down, collected the girls, and climbed back up again, so we could all enjoy this rare Seattle display of sunshine.
You know those scenes you see on tv, when a star is walking down the red carpet, or shows up at a night club - the oohing and aahing, the click-click-click of camera lenses?
It was like that. We all watched to the East until the last sliver of the sun disappeared behind the Olympics, and suddenly cameras came alive, people stirred in excitement and wonder, couples stood to have their pictures taken with the city as their background, a hundred professional and amateur photographers got off shot after shot, painters feverishly worked their brushes and water colors. . .the city lit up in gold flake - the sun glinting off the high-rise windows - while Mt. Rainier chortled in purple majesty.
All of this for nature, for beauty, for mountains and snow and setting sun. It was an instant community, gathered for the sole purpose of enjoying the most impressive lighting display you will ever see. "The Heavens Declare the Glory of God, the Skies proclaim the works of his fingers."
It was wonderful and magical and heart-warming to be a part of. I think Heaven may be just a little bit like that. And I was gladdened to see that people still care about this world in which we live.
It was, as I said, a day to make the rest of the world jealous. And a day to remember for many, many days to come.
Oh, and then - we stopped and ate El Salvadorian food for dinner on the way home. So make it simply the most perfect day ever.