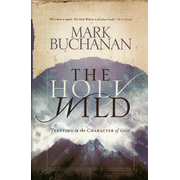 Who is God? What is he like? Can God be trusted? Is God worthy to be worshiped? In The Holy Wild, Mark Buchanan searches wide and deep for the answers to these questions. His verdict: All too often, we perceive God as capricious, or boring, or angry, or irrelevant, somebody to turn to in trouble but otherwise ignore. Instead, Buchanan says, God is wild, God is just, God is beyond our expectations and dreams. God may not be as stable as we'd like, but God can be trusted.
The chapters of the book are organized around different lenses through which Buchanan ponders this Holy Wild God: God's goodness, love, wrath, mercy, victory, holiness, creativity, and so on. The prose is a mixture of meditation and story - stories from the author's own life and ministry, and a salting of Tolkien, C.S. Lewis, church history, poetry, and philosophy.
The Holy Wild is in the end a devotional book, pulling one deeper rather than broader. I'm not so sure I learned anything new here, but I was forced to sit and linger over many things I'd rushed by in the past. In the end, it was a nice patch of grass in which to sit and reflect.