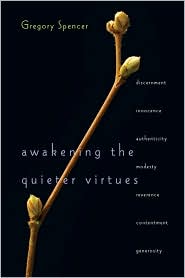 We often define our faith by a big list of things we should do, and things we shouldn't do. Most of the items on those list also fall into the category of obvious and important things we should do (like go to church, love our mother, behave respectfully) and, more explicitly, the Big Sins we should avoid (murder, lust, pornography, addictions, voting for a Democrat, and stealing).
Gregory Spencer has written
Awakening the Quieter Virtues,
a very helpful book calling our attention to the fact that more often it's the little things that really count, the quieter virtues that really make a difference. It's the unseen practices that mold us and shape us as Christ-followers, and that slowly change the world around us. Much like yeast working through the dough, the quieter virtues act from deep within us, not calling attention to themselves yet all the while forming us and assisting us as we seek to be like Christ.
Not only does he point out this often-overlooked point; Spencer spends the bulk of the book working through these quieter virtues, explaining what they may look like in our 21st-Century lives. He peppers his work with stories from his own life and the lives of his friends and students (he teaches at Westmont College). The book is not an esoteric description of spiritual disciplines unattainable by normal, non-spiritual folks. He proves that with a little effort, anybody can put these virtues into practice and slowly see their spirit drawn closer to the Spirit who gives life.
Certainly these are important virtues for our world today, and if the church were to put these into practice, we would begin to shine a brighter light into a dark world. Virtues Spencer explores include discernment, innocence, modesty, reverence, contentment, and generosity. Each virtue is paired with a spiritual discipline that is useful to form that virtue in the reader's heart. However, I must say again that Spencer is not working toward a pious, self-righteous unearthly spirituality. He labors to plant these virtues firmly into the soil of our postmodern lives.
This certainly isn't a theological tome, and the fact that Spencer teaches college students shows up in his writing. Some may be put off by his attempts to be catchy, but in the end I appreciated his efforts to contextualize this work, making sense of it for our time and place. It reads lighter than Nouwen or Merton, but to that end would be especially useful for people without much (if any) experience with the concept of spiritual disciplines.
Awakening the Quieter Virtues was a gift given to Covenant pastors at last year's Midwinter conference. I appreciate that people within our denomination are generous in their gifts, and thoughtful in the books they send out way.